Description
Most people assume all you need to fish is a rod, line, reels and some bait. Oh, that it were that simple. Your tackle box holds your "bag of tricks" for fishing. And a well prepared tackle box can make all the difference during a fishing adventure.
The Rolling Tackle Box comes with five clear 3600-size tackle trays. Each tray has 18 cells for your lures, leaders, hooks, sinkers, etc. The trays fit nicely into the base of the tackle bag accessible from the front of the bag. Since they're clear, it's easy to find exactly what you need.
Made with tough fabric and durable zippers, this waterproof fishing bag measures 15.7" (length) by 9.6" (width) by 18.7" (height). The bag itself weighs only 11.8 lbs, so it's extremely easy to transport to and from your favorite fishing location. Carry up to 26.5 lbs of gear.
Elkton Outdoors Fishing Gear Tackle Bag Features:
The Rolling Tackle Box was designed to protect and organize all of your fishing gear.
It features several storage pockets that can serve multiple purposes.
Large upper storage area can be divided into two or three sections, according to your needs.
Five levels for 3600-size tackle trays are accessible from the front of the bag.
Four fishing rod holders made from PVC (two on either side of the bag).
Three additional zippered pockets—one under the top cover, one inside the front cover, one on the back.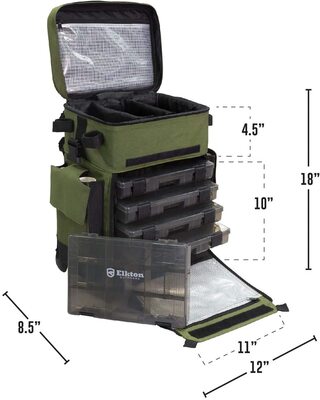 Featuring two heavy-duty wheels and a telescoping handle, this tackle box can be rolled like a regular luggage bag. When the handle is fully extended, the tackle box can be pulled behind you at a comfortable angle. Once you've reached your destination, there are two sturdy feet that allow the tackle box to sit level. When it's time to pack the gear into your car, the handle can be collapsed, making it more compact.
When the telescoping handle is collapsed, it can be lifted using an additional handle strap located on the back of the tackle box. If the terrain doesn't allow for rolling, the included shoulder strap can be used to carry the tackle box. This shoulder strap is removable.
If you have just started fishing, your tackle box will look very different from the tackle box of an experienced angler – probably a lot more empty space. However, it takes years of experimentation before you put together the perfect tackle box. As long as you have a basic kit in your tackle box, you can build on it.