Description
Every fishing tackle is important because if one is missing; you may have a bit difficulty in having a good and successful catch. One of the basic equipment's that you will need is fishing lures.
It is now time for you to discover the proper type of bass fishing tackle to use when going bass fishing. The spinner baits are the most commonly used by individuals. They are simple to use and can result in a successful catch.
They can detect the presence of fish, particularly when they move quickly in the water. When employing this form of bass fishing tackle, you will most likely be able to detect a group of fish at once.
Crank baits are another sort of bass fishing lure; they are among the most popular bass flushing lures and are a mimic of genuine fish.
Recreational fishing can be fun if you have the complete and best fishing tackles such as the Bass Fishing Lures and Accessories by Tailored Tackle.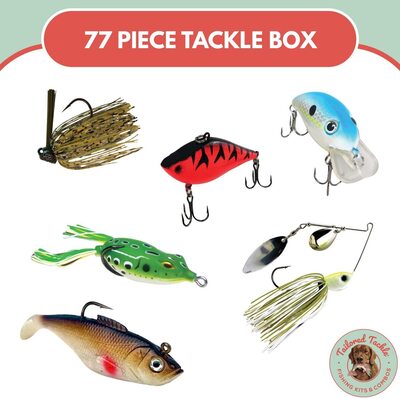 Freshwater Fishing professionals show you What Bass Lure to Use, How to Find Bass, Bass Fishing Techniques & Tactics Plus TOP 10 Best Bass Fishing Tips in 14-page bass fishing book.
If you are looking for a gift for your favorite bass fisherman then you should consider buying best bass fishing tackle like this Tailored Tackle 77 piece tackle set.
Remember that angling gets more enjoyable as you gain expertise, and proficiency comes with the proper fishing tackle and equipment.