Ever tried surface water fishing? You do not know what an experience you are missing. Topwater lures are real thrillers as they lie seemingly harmless but once they are attacked from underneath they give the excitement that every angler wants. You have a variety to choose from in terms of shapes, designs and other preferences that you want in your bass baits.
Casting Topwater lures
Casting topwater fishing lures can be one of the most exhilarating experiences you can have while fishing. There are times when they are the best fishing lures to be casting. The pageantry of it all is quite impressive. You get to see the lure pretty near the entire time it is away from the boat. Sure there are some that dive a bit before coming back to the surface, but the majority of the time they will be on the surface. On top of that nearly all of the stikes will happen when the bait is on the surface, which is what makes this type of fishing so great. Now, topwater baits are generally not meant to be walleye fishing lures. No, you are looking for aggressive fish that aren't afraid to rise to the top to hammer a lure. Generally we are talking about bass, northern pike and the like which are known to be aggressive at times and willing to boil the surface of the water to find a meal.
Topwater Lures For Bass
Here are the rich varieties of topwater lures that you can choose for your bass fishing adventure:
Buzzbaits: they are close to spinnerbaits but these ones are for surface fishing. They are best in grass and submerging weeds. For the abundant catch use them at the middle of spring to mid-fall seasons when the water temperature is as high as 65 degrees.
Poppers: their popping and grudging sound is what draws bass to them. They should not be left to lie on the water for long since they lose their clarity. You have to regularly pop them in and out of the water in frequent successions.
Jerkbaits: their versatility in different fishing conditions has kept them a top priority among many bass fishermen. Jerkbaits will be at their top performance both in clear and dingy water.
Stickbaits: they are popularly referred to as "walking baits" since they do not have their own action. It will take the skills of a fisherman to make them perform manoeuvres to lure bass into biting them.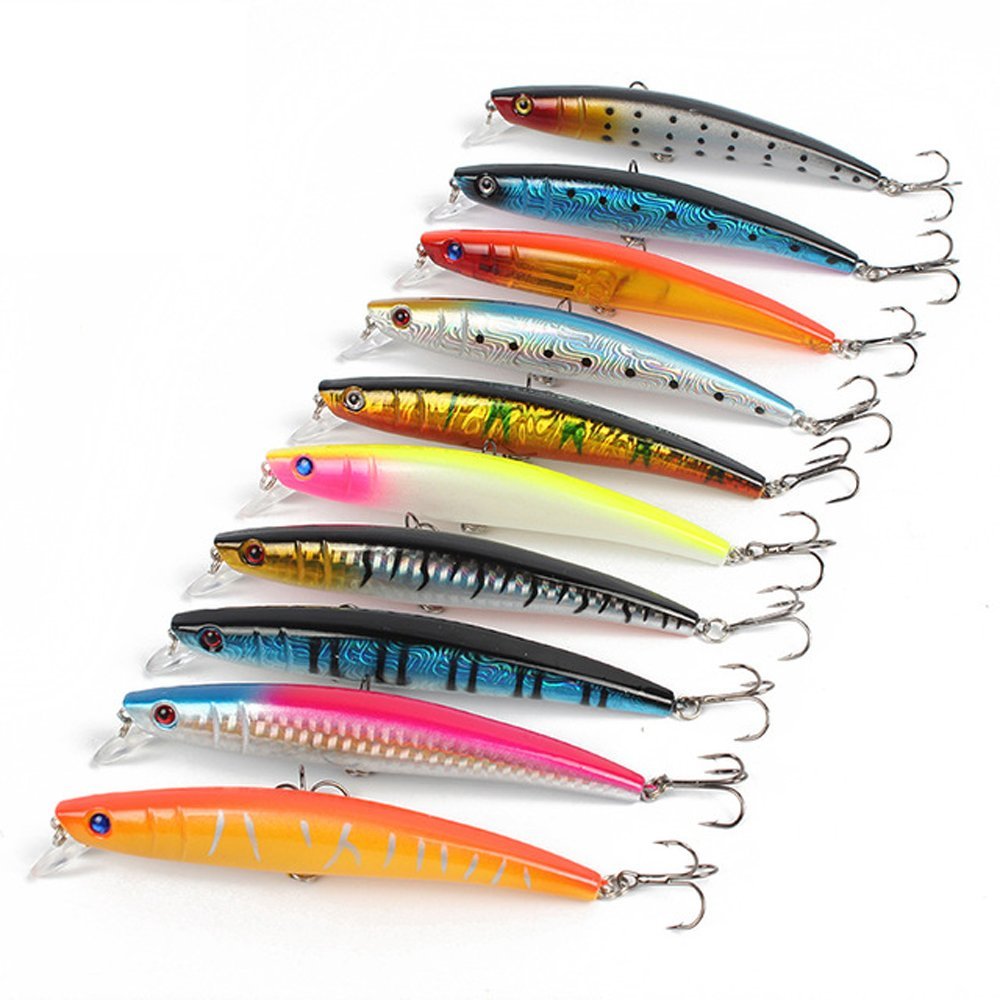 Where To Use Topwater Lures
Different bass bait will be used in varying conditions. The same goes for topwater lures for bass. These are the best places to use these kinds of baits:
Calm water: a popper's noise will stir bass to move towards still water at the top. They are not particularly noisy but they are effective in luring bass to clear top water.
Warmer conditions: in warm water, bass tend to cling to the surface. This is the time to use floating baits and you will have countless bites.
Schooling bass: bass are social fish and will tend to flock together especially near water surface. Topwater lures are the best pick to incite the school to attack. They cover a large area and you do not have to worry about the bait staying in one position for long.
What are the general ways to fish topwater fishing lures?
Well that really depends on the bait. There are some topwater lures that needs to be fished fast. I'm thinking of lures that will sink if you don't reel them in quickly. A good example of this would be a buzzbait. A buzzbait is kind of like a spinnerbait that is designed to stay on the surface. Blades twirl in a circle and cause a ruckus on the surface designed to get the fishes attention. But generally, the lures that I have had the most luck fishing on the surface are slow movers. Often a good rule of thumb is to cast the lure to a likely spot and let it sit there until the ripples dissipate. This can be hard to do, but often pays off in spades. As soon as it hits the water, trust me the fish will notice. If you move it right away the fish may be spooked. By leaving it sit they get a chance to come up close and check it out. Often from here it is best to just twitch the lure with your rod tip and move it a few inches at a time in a haphazard fashion. Don't get me wrong, there are times when the fish wants it to really be moving, but it seems more likely they want a sporadic retrieve. Twitch then wait. Rinse repeat. Another option is to "walk the dog" as they say, and basically twitch the rod back and forth. The intent is to get the lure to "walk" back to the boat atop the water. This can be very effective in the right conditions.
Topwater Lures For Bass – Quick Tips On How To Use Them
There is no formula to becoming a good angler but learning a few bait tricks makes a lot of difference. With topwater lures, these tips will bring the best even for a first time fisherman;
Quieter baits are the best in clear water. It is easier to disguise the lure and attract quick bass bites.
No-action lures like the Stickbaits are the best for surface fishing. They can lie in one place for long and attract frequent attacks.
It is advisable to have follow-up baits once you miss an attack. Bass never run away from potential food.
The difference between a successful angler and one who struggles to catch one fish is how best they choose their best baits for bass. Know when to use the top water lures and you will always love your experience every time you go fishing.