Ever tried surface water fishing? You do not know what an experience you are missing. Topwater lures are real thrillers as they lie seemingly harmless but once they are attacked from underneath they give the excitement that every angler wants. You have a variety to choose from in terms of shapes, designs and other preferences that you want in your bass baits.
Topwater Baits
Topwater lures, or surface baits, are just what the names suggest, fishing lures that float on the surface of the water. Most topwaters have a cupped head or lips attached to make a splashing or popping sound when fished. The noises that are created attract fish from great distances.
Generally you cast topwater lures near cover. A common technique is to retrieve the lures in quick jerks with short pauses in between. You will get the most luck with topwaters in shallow water in the morning and evening.
Topwater Lures For Bass
Here are the rich varieties of topwater lures that you can choose for your bass fishing adventure:
Buzzbaits: they are close to spinnerbaits but these ones are for surface fishing. They are best in grass and submerging weeds. For the abundant catch use them at the middle of spring to mid-fall seasons when the water temperature is as high as 65 degrees.
Poppers: their popping and grudging sound is what draws bass to them. They should not be left to lie on the water for long since they lose their clarity. You have to regularly pop them in and out of the water in frequent successions.
Jerkbaits: their versatility in different fishing conditions has kept them a top priority among many bass fishermen. Jerkbaits will be at their top performance both in clear and dingy water.
Stickbaits: they are popularly referred to as "walking baits" since they do not have their own action. It will take the skills of a fisherman to make them perform manoeuvres to lure bass into biting them.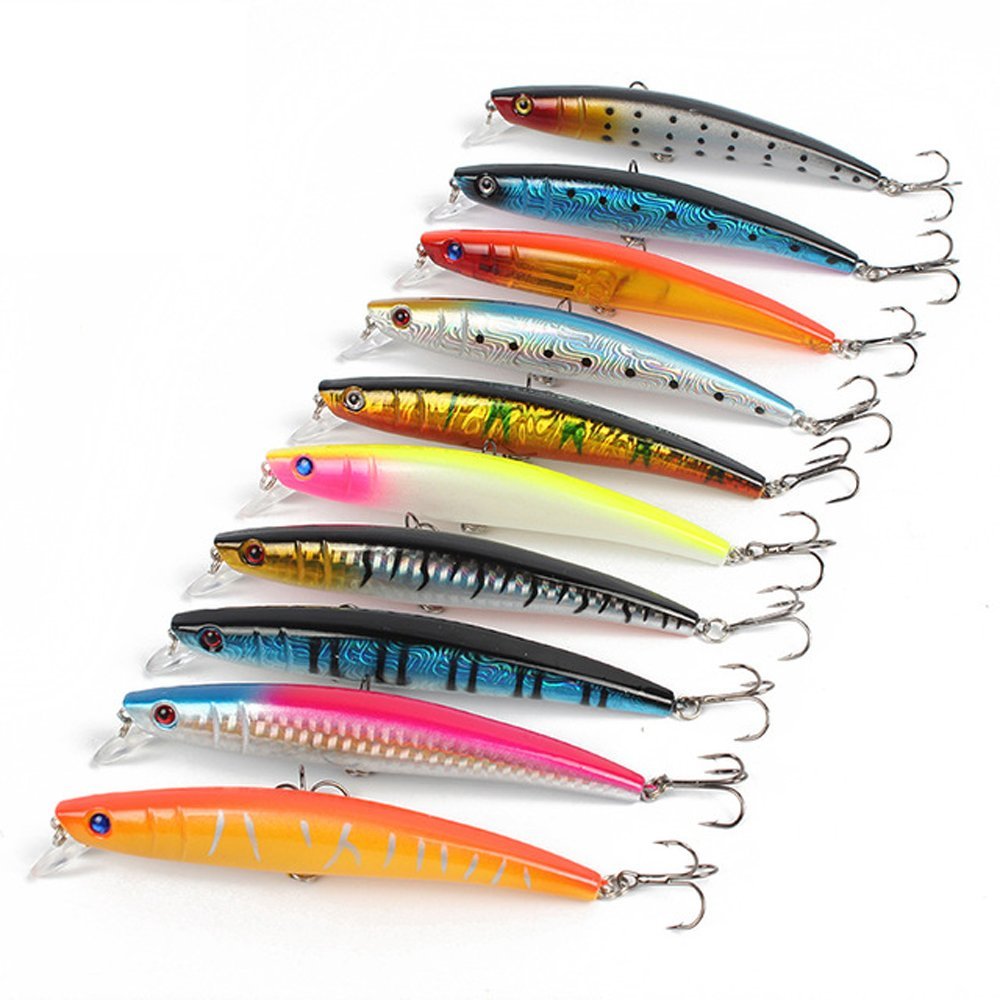 Topwater Lures Reviews
Many bass tournaments have been won with topwater fishing lures in shallow water! In this entry we want to discuss a couple of the most popular surface baits that even the pros won't leave behind.
Arbogast Jointed Jitterbug
The Fred Arbogast Jointed Jitterbug has been often called "most action-packed topwater lure available". The Arbogast company produces some of the best baits available to professional and amateur anglers and the Jitterbug is no exception. The splash on the surface of the water created by the jointed tail will attract large fish from afar and not just bass either. Musky and pike have been caught on this lure just as often I'm sure.
Arbogast Jitterbug
Are you looking for a lure that is easy to fish with but still keeps a lot of top water action? The Arbogast Jitterbug is probably your answer. To be honest, there is really only one way I would recommend fishing this lure, and that's to use it how it is designed. The small plate in the front was designed to cause the lure to shimmy back and forth by itself. Therefore, instead of having to use a slack retrieval method like walking the dog, you can just let the Jitterbug do a smaller side to side motion for you by a steady and medium speed retrieval.
Can The Arbogast Jitterbug Be Used For Night Fishing?
The noise on a Jitterbug is also very unique. Since you are doing a consistent retrieval and there is a consistent noise, many fishermen enjoy using this for any type of night bass fishing. What you will hear is a consistent popping noise that is produced by the way it disperses the water in front of the lure. It also has to do with the way the lures plate on the front slaps against the lure as it goes through the water which gives it another different type of noise which fish seem to be attracted to.
Does This Topwater Lure Come In Different Models?
There are actually three different models. Your first would be the standard Jitterbug which comes with a treble hook on the back and is the classic Jitterbug that many fishermen have been using for years. I think Arbogast got in on a good market when they produced the Weedless Jitterbug. Now, obviously, there is still some risk of getting the lure snagged, but the smaller hook protected by the body of the lure and with it being skirted it will significantly help reduce the amount of times you will be snagged on logs and other brush. The last option you have is the Jointed Jitterbug. This actually has a wagging tail to produce a bigger motion in the water than the classic Jitterbug.
Fred Arbogast Jointed Jitterbug Review
The special lip on the Jitterbug creates a tremendous splashing sound on the surface of the water that bass can hear from great distances. Add to that the action of the tail of the Jointed Jitterbug and start attracting even bigger gamefish looking for their next meal. It has been said that the Jointed Jitterbug is the "most action-packed topwater lure available". I don't know about that because there are plenty of action packed topwaters, but it has proven to be quite successful for pulling in some big bass and pike.
The treble hooks hanging from the lure are bright plated and the action from the jointed tail sends out some extra flash to the fish below. When fished slowly, the Jointed Jitterbug makes a sort of plop-plop sound. Reel it a bit faster and the plopping sound becomes a bit more frantic mimicking wounded prey having a heckuva struggle and needs to be put out of it's misery.
Arbogast Topwater Jointed Jitterbug 2.0 Bass Fishing Lure
The Jitterbug, whether it be the straight bodied Jitterbug or the Jointed, offers awesome action when fished in the shallows at night. With the jointed tail, I tell you, the bass can't resist the side to side action. My favorite time to fish this lure is in the warmer summer months during a full moon. The Jitterbug howls to these big predators and they can't ignore. For even deadlier action try the Jitterbug Clicker.
One downfall that I've found with the Jointed variety of the Jitterbug is that the tiny screws come loose after catching several big fish, which in general doesn't take too long with this lure. Just keep a tool handy and keep an eye on the screws and tighten it up when necessary. It's worth the little bit of work and the extra attention, believe me.
I've pulled up everything from big bluegill, to 5,6,7 pound bass, to northerns and musky on this lure. I'm not kidding when I say the big fish will be tugging at this lure, so be sure to add some heavy abrasion resistant line to your spool, you don't want them wrapping you around something that can cause your line to break.
Heddon Crazy Crawler
The Heddon Crazy Crawler is another oft-used lure by professional anglers. The Heddon name attached to the lure should tell you something right off the bat. Heddon is been around a long time and boasts some of the top used lures to date.
The Crazy Crawler is a great lure to use for even beginner topwater anglers. No special technique is required, it has crazy action without any extra effort on your part. You can just cast and retrieve. Try going slow and then speed up if you don't see strikes. After the cast, wait until the rings are gone before retrieving. Upon landing is often when the strike will occur.
The Heddon Crazy Crawler has been around for years. Many people will remember fishing with them as a kid because they are so easy to fish with. Unlike plastic worms or other various types of lures, this is one of those that you simply cast and pull it in. However, many people still use other techniques for better results.
Heddon Crazy Crawler Topwater Bass Fishing Lure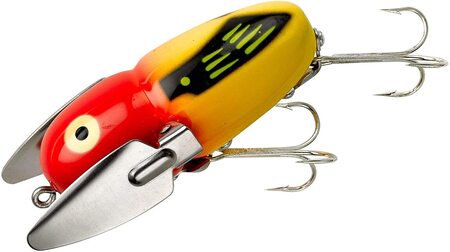 While, in theory, you should be able to just reel it in, it is recommended to do a popping method with it. The advice from other regular users of the Heddon Crazy Crawler was to let it sit for a few seconds before reeling. The bass seem to bite it just as it stops or is sitting in the water after you pop it or reel it a couple of feet at a time.
This lure is good if you just have to find a way to it to pull those cold water bass to the surface. Not many lures will do that, but the Heddon Crazy Crawler is notorious for having a crazy action to it. Obviously, it gets its name from the crazy motion it has. Some people feel as though the motion itself does not resemble anything in particular, but for some reason the bass seem to like it.
You are not limited to just bass with this lure. Almost anything that will actively hit topwater lures will find this lure appealing. It is relatively small so you can expect to catch crappie and large perch with it as well. Many fisherman claim that they have had a lot of luck catching pike with this lure too. Although some people get a chuckle when seeing someone tie this lure on, they will not be laughing long when you start pulling in the lunkers! They'll be asking where they can score the Heddon Crazy Crawler!
Heddon Zara Spook
The Heddon Zara Spook produces a side-to-side action that bass and pike can't resist. It can be used even when the water is a bit choppy or if there is rain disturbing the surface of the water, because of the great action created.
For even more action to attract the big game fish, anglers often look to the "wounded" variety of the Zara Spook. The Wounded Zara Spook comes equipped with propellers on the front and back ends creating a ruckus on the surface of the water. It mimics prey that has been injured, and in the wild predators sniff out the weak and attack with a vengeance.
The Heddon Zara Spook produces a side-to-side action that bass and pike can't resist. It can be used even when the water is a bit choppy or if there is rain disturbing the surface of the water, because of the great action created.
For even more action to attract the big game fish, anglers often look to the "wounded" variety of the Zara Spook. The Wounded Zara Spook comes equipped with propellers on the front and back ends creating a ruckus on the surface of the water. It mimics prey that has been injured, and in the wild predators sniff out the weak and attack with a vengeance.
Heddon Zara Spook Bass Topwater Fishing Lure
The Heddon Zara Spook is designed for topwater and primarily used for bass and pike fishing. The lure is probably best fished with a slack retrieval known as "walking the dog". A Heddon Zara Spook when popped across the water will have a side to side action. This is a great action if you are in rainy weather where you need a lot of action on the top of the water. It has a very hard knock noise as well. The fish will often bite when the Zara Spook stops momentarily in the slack retrieval process.
One of the greatest things about this lure is that it comes in a huge variety of colors. You will be able to find almost any type of paint you are looking for. They have things that mimic frogs to shad to minnows and basically everything in between.
Night fishing is also a different game for most people. If this is something you will be trying in the near future, many fishermen swear by the performance of a black Heddon Zara Spook. As well, you should not feel that you will be limited to just bass and pike, this lure is also known to attract musky, crappie, and other small fish.
If you are looking for something that has a little bit more of a splash to it, then the Wounded Zara Spook might be something you are looking for. Essentially, the Wounded Zara Spook acts much like the normal Zara Spook, but the difference being that the Wounded has two spinning blades on it. One on the front, and one in the back which seems to make more of a splash than the original. Still, it is used to catch the same type of fish, but may perform slightly better in rainy weather where you need your lure to stand out from the rain hitting against the water.
Heddon Torpedo Lures
Are you one of those fisherman who get extremely bored with the lure fishing? The Heddon Torpedo might be a solution for you. The lure is actually very versatile in the way you can fish with it. It works well whether you want to do a steady retrieval or anything that is sporadic. Many people will try different methods with the lure to hopefully figure out what the fish are biting on that specific day. Once you figure out what works for you, I do not think you will be disappointed.
This top water lure is designed to make a unique sound and motion on the top of the water. It has a small propeller-like action on the back. As you retrieve the lure in after a cast, it will make a tremendous wake and splashing disturbance which the fish seem to love. It probably mimics a scared or wounded shad the most but does come in various colors and paint that might be said to mimic other things such as sunfish or minnows.
Heddon Torpedo Topwater Bass Fishing Lure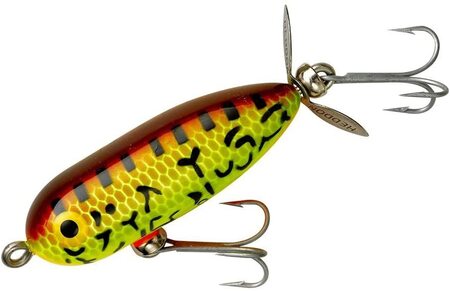 One of the better things about the Torpedo's is that they come in several different sizes. You can find Teeny Torpedo's, Tiny Torpedo's, Baby Torpedo's, or even Magnum Torpedo's at most sporting goods stores that sell bass lures. Obviously, the smallest torpedo is likely to catch smaller fish such as sunfish or crappie, but is still capable of catching something much larger. However, if you are only interested in the bigger bass, I would recommend one of the larger versions. The bigger the torpedo is, the larger the water disturbance it makes. The large noise and lure seems to draw in the bigger fish.
Heddon Lucky 13
The Heddon Lucky 13 has been around longer than I have been alive. Still, many fisherman will have this in their tackle boxes for any day of bass fishing where they may need a top water lure. The typical retrieval process is a popping retrieval. The front of the lure with its indented nose will cause the Lucky 13 lure to dive down into the water and cause water to splash up in front.
The Lucky 13 is a good lure for water that is less than about six feet deep. Its top water action will keep you out of the logs, but may allow your bait to be taken underwater since it does have a diving action to it. You can have it dive behind logs, then wait a few seconds allowing it to return the surface. Even though it has two treble hooks, it is still great at avoiding snags in areas with a lot of logs or stumps above and below the water.
Heddon Lucky 13 Topwater Bass Fishing Lure
You are not limited to one type of retrieval with this lure. If you feel that the diving method is not working, you can keep this lure on the top of the water by lifting your rod a bit. This may allow you to have the lure dart back and forth, also known as walking the dog, or pop across the top of the water.
The Heddon Lucky 13 comes in two sizes. There is the standard Lucky 13 which is a 3 ¾" long sleek lure and weighing in at 5/8 ounces. Then you have a Baby Lucky 13. The Baby Lucky 13 offers a few more colors, is 2 5/8" long, and weighs 3/8 ounce. The lure in both sizes has a very bulky appearance which will allow it to disperse a lot of water and make a huge splash at both sizes. The Lucky 13 (regardless of size) seems to be one of the more popular plugging lures on the market today.
Where To Use Topwater Lures
Different bass bait will be used in varying conditions. The same goes for topwater lures for bass. These are the best places to use these kinds of baits:
Calm water: a popper's noise will stir bass to move towards still water at the top. They are not particularly noisy but they are effective in luring bass to clear top water.
Warmer conditions: in warm water, bass tend to cling to the surface. This is the time to use floating baits and you will have countless bites.
Schooling bass: bass are social fish and will tend to flock together especially near water surface. Topwater lures are the best pick to incite the school to attack. They cover a large area and you do not have to worry about the bait staying in one position for long.
What are the general ways to fish topwater fishing lures?
Well that really depends on the bait. There are some topwater lures that needs to be fished fast. I'm thinking of lures that will sink if you don't reel them in quickly. A good example of this would be a buzzbait. A buzzbait is kind of like a spinnerbait that is designed to stay on the surface. Blades twirl in a circle and cause a ruckus on the surface designed to get the fishes attention. But generally, the lures that I have had the most luck fishing on the surface are slow movers. Often a good rule of thumb is to cast the lure to a likely spot and let it sit there until the ripples dissipate. This can be hard to do, but often pays off in spades. As soon as it hits the water, trust me the fish will notice. If you move it right away the fish may be spooked. By leaving it sit they get a chance to come up close and check it out. Often from here it is best to just twitch the lure with your rod tip and move it a few inches at a time in a haphazard fashion. Don't get me wrong, there are times when the fish wants it to really be moving, but it seems more likely they want a sporadic retrieve. Twitch then wait. Rinse repeat. Another option is to "walk the dog" as they say, and basically twitch the rod back and forth. The intent is to get the lure to "walk" back to the boat atop the water. This can be very effective in the right conditions.
Topwater Lures For Bass – Quick Tips On How To Use Them
There is no formula to becoming a good angler but learning a few bait tricks makes a lot of difference. With topwater lures, these tips will bring the best even for a first time fisherman;
Quieter baits are the best in clear water. It is easier to disguise the lure and attract quick bass bites.
No-action lures like the Stickbaits are the best for surface fishing. They can lie in one place for long and attract frequent attacks.
It is advisable to have follow-up baits once you miss an attack. Bass never run away from potential food.
The difference between a successful angler and one who struggles to catch one fish is how best they choose their best baits for bass. Know when to use the top water lures and you will always love your experience every time you go fishing.